Pattern Points
Pattern Points is a reward scheme that we are using on our website to reward customers on their purchases. On every purchase you make, you earn Pattern Points depending on two factors.
• You have created an account - You need to have an account with us before you start earning Pattern Points.
• How much you spend - For every £1 you spend on our store, you get 10 pattern points rewarded to your account. So, spend £10 and you will get 100 pattern points and so on.
Creating An Account
Creating an account couldn't be simpler, if you've already shopped with us in the past you should use the same email you've used previously with us not only to track your points but to view your previous orders as you will be able to see all of them within the "My Account" section once you have logged in.
To create an account, click "My Account" at the top of the page and then click "Create Account" or alternatively click here.
When you are on the create account page (see images below), just enter your first name, last name, email and a secure password then click "create" and you're done, that easy! You will get an email confirmation and you will be able to start earning points along with being able to view your address details and previous orders in the "My Account" section.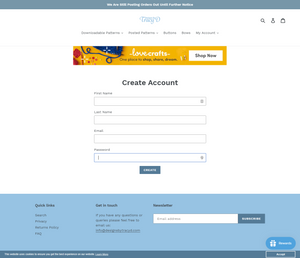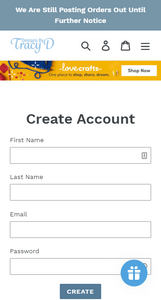 Viewing Your Pattern Points
To view your Pattern Points and redeemable rewards is easy too! All you need to do is click the little present icon in the bottom right of the screen (pictured below) and if you have already signed into you account everything will load automatically for you or it will ask your to join/login to your account.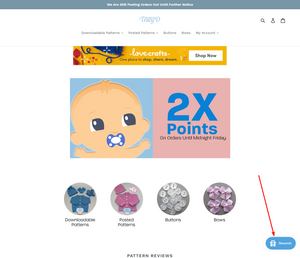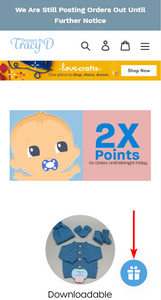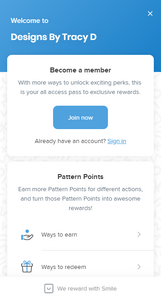 Redeeming Points
Once you have earned enough points you will be able to redeem them for rewards. The rewards are as follows:
• £3 off for 300 points
• £7 off for 700 points
• £10 off for 1000 points
You can easily redeem these points by clicking the "Redeem" button next to the rewards as shown below. Alternatively, if you would like to see your progress towards the next reward tier then just click "All Rewards" and it will show you all available redeemable rewards and your progress to the next reward.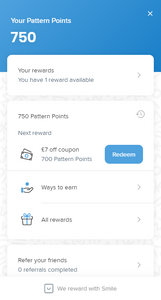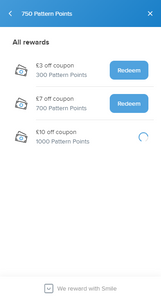 When you click the redeem button and redeem your points for a coupon of your choice you will be taken to a screen which you can either copy your code to your clipboard or apply the code to your order. If you click "Apply Code" it will automatically apply your code to the order and you will see this upon checking out before you pay. If you copy the code, you can enter it manually on the checkout and put it in the Discount Code box before entering your payment information.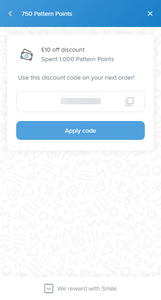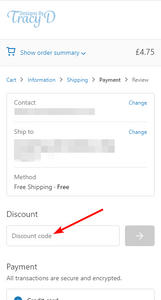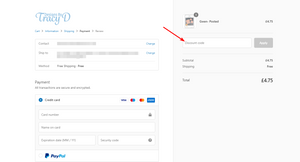 Ways To Earn
There are a few ways that you can earn rewards with us at the moment besides making purchases, these include:
• When you first sign up - When you first sign up you will get a 100 point bonus added straight to your account.
• Celebrating your birthday - You can edit this date once and on your birthday 100 points will be added to your account.
• Referring friends/family - When you refer friends/family you give them a 15% off their first order and when they make that order you will get a 15% off coupon to use on your next order!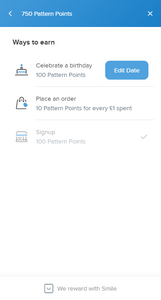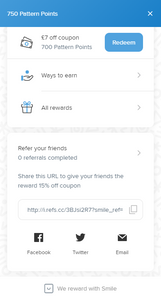 Referrals
To refer a friend or family member just simply scroll down to the bottom of the main rewards page (see above) and you will see a few options.
• Copy the link - Then you can put this link anywhere where your family/friends can click it to redeem the 15% offer.
• Facebook - You can directly share your referral link via Facebook.
• Twitter - You can directly tweet your referral link via Twitter.
• Email - You can send an email with your referral link directly to your friend/family member.
Please note that any abuse of this system will get your rewards account terminated.
F.A.Q
• I've made orders in the past but I didn't sign up, can I get points added for previous orders?
○ No. We can't allocate points after purchases are made as they are linked to the orders and once the order has been made, it can't be changed.
• I used a different email address on my orders, can I put all my points together?
○ We are unable to transfer points across accounts as points are non transferable and they are linked to orders.
• I forgot to put my code in the discount box, can I still get my discount?
○ If you email us or contact our Facebook page inbox with your order number and discount code we will be able to apply it as long as you have the points available.
• I can't create an account
○ If you follow the steps provided previously you will be able to make an account. Make sure the email is valid and that you remember your password. If you have forgotten your password you can reset it here.
• I have signed up but I didn't get any points for my order.
○ Please make sure that the email address that you've signed up with is the same email address that you enter on the payment information screen, if your rewards account has a different email to your payment then the points will go to the payment email address instead (if there is a reward account open for it).